Cooking is a fun and necessary hobby to have. After all, we all need food to sustain ourselves and stay alive. Sometimes, it's not as much fun as it should be, though. How do you decide what to cook next? What if you're running low on inspiration?
Here are 10 apps to give you some great suggestions, as well as some helpful advice along the way.
1. BigOven (Free)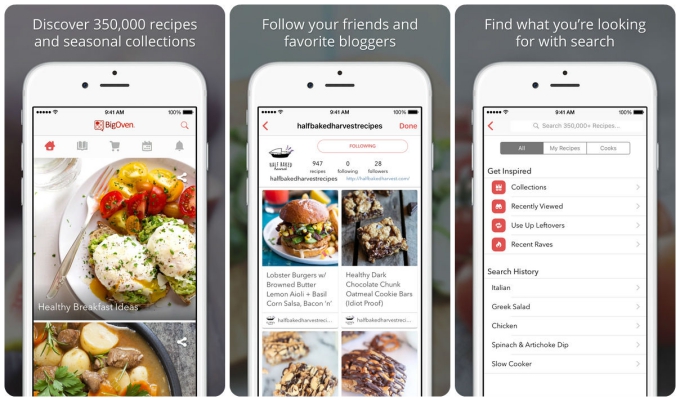 With more 350,000 recipes, BigOven makes cooking simple. With this cooking app, you'll be inspired and organized in the kitchen and on the go. Some of the highlights include access to BigOven's massive library of recipes, the ability to add snapshots of your own recipes,  and the option to make a grocery list in the app based on recipes you'd like to create. Simply type in three ingredients you have in your fridge and BigOven shows you what you can make with them. The app also adds a social feature, allowing you to check out what your friends, family, and favorite bloggers are making. Plus, it offers seasonal collections right from the home screen to get you inspired.
2. Jamie Oliver's Recipes (Free)


The official app of popular chef, Jamie Oliver, this app provides 15 new seasonal recipes every week, covering everything from quick meals to dinner party style occasions. In each case, videos and clear photos are provided, along with how-to guides to master the trickier parts of cooking. It's stylishly attractive.
3. Food.com (Free)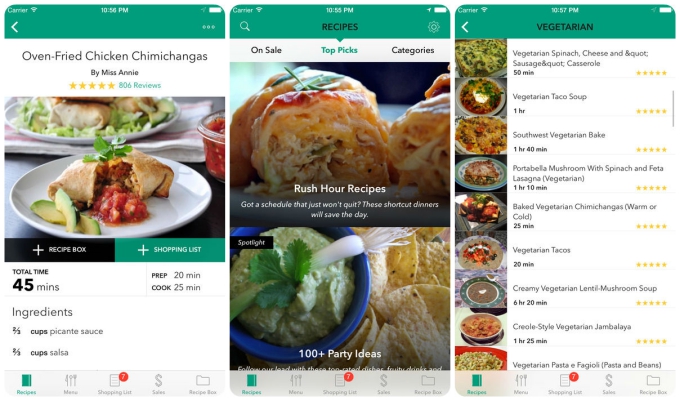 With over 500,000 recipes, the Food.com app is expansive. You can easily build menus, while having a grocery list populated with options. Food can be divided up according to dietary requirements and food preferences, plus you can even check out deals from local grocery stores so you always get the best price. Recipes can also be imported from other sites.
4. Yummly (Free)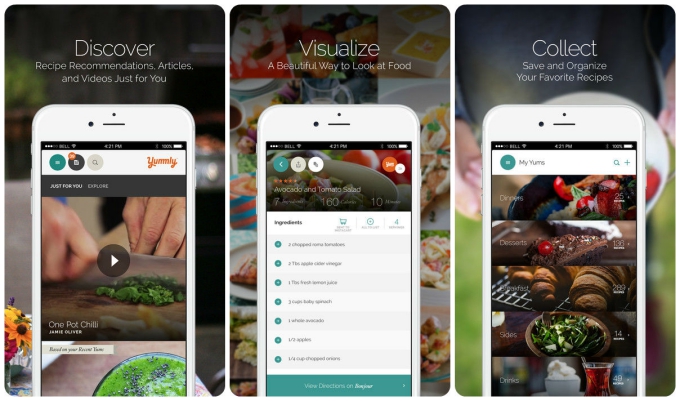 Yummly's greatest strength lies with its search engine. Of course, it'll provide hundreds of recipes to replicate and experiment with, but you can also tailor searches to fit your specific needs and lifestyle. Going on a diet, but still want to enjoy a good burger? Yummly has you covered. Have a particularly nasty food allergy to coconut? Yummly can adjust for that as well.
The app will come to learn what you like and don't like over time and begin recommending recipes more suited for your individual lifestyle. From there, you can easily save those recipes or add the needed ingredients to an in-app shopping list. Yummly also features a store where you can buy cooking essentials right from the app, from a wine opener to a cast iron grill, it has it all.
5. Allrecipes Dinner Spinner (Free)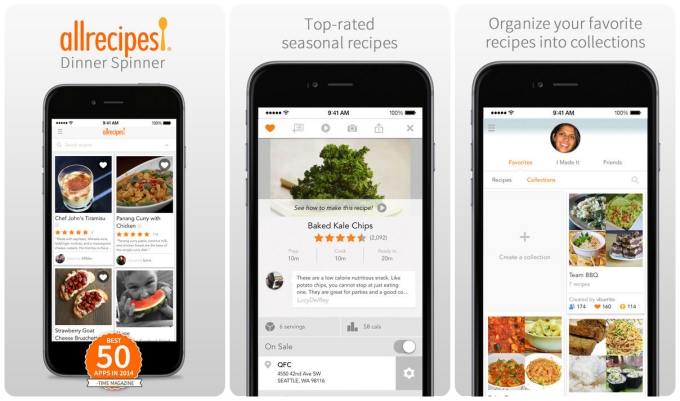 No idea what to cook tonight? Allrecipes Dinner Spinner offers a recommendation at the spin of the app. With a Tinder style interface, you can swipe away anything that doesn't appeal, and the app remembers this for future reference. Step-by-step cooking videos make things easy, even if you're new to cookery.
6. SideChef (Free)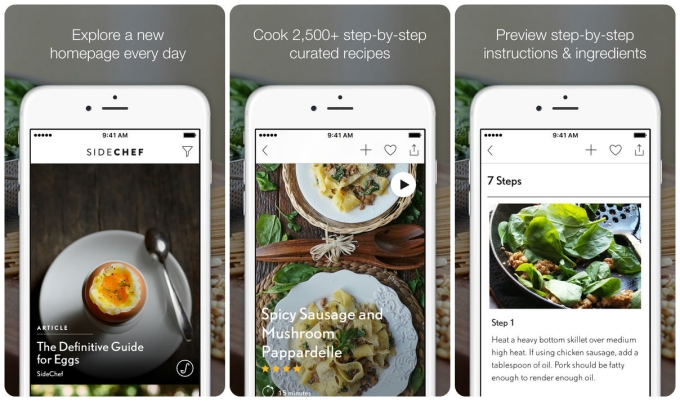 With SideChef, you can get access to more than 4,000+ food recipes and follow top food bloggers and chefs. The app's main goal, however, is to make cooking easier for new cooks, regardless of how much experience they may have. Each recipe comes with step-by-step instructions and an accompanying set of photos, videos, voice commands, and timers. You can also adjust the serving size of a recipe on the fly, which automatically converts the ingredients. See a recipe you want to try out, but don't have the ingredients for it? Make a list within the app and email it to yourself for later. Feeling proud of your creation? Take a photo and share it with the rest of the SideChef community.
7. Pepperplate (Free)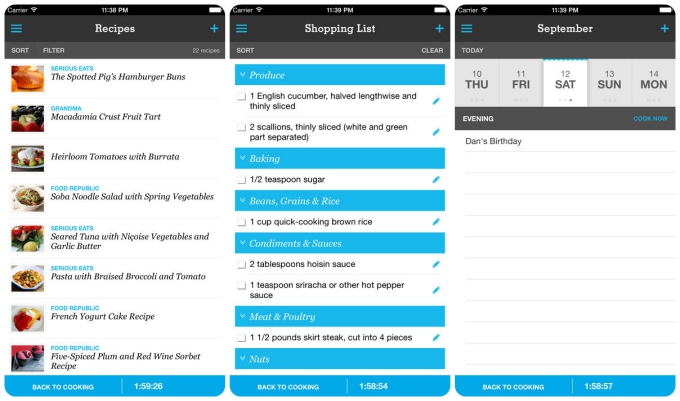 Pepper plate is a recipe management app, making it simple to create new recipes on your phone or import them from favorite sources. You can easily organize your meals for the week or month, before adding them to a shopping list feature for consultation later. Timers complete the set, saving you plenty of effort.
8. Paprika Recipe Manager ($4.99)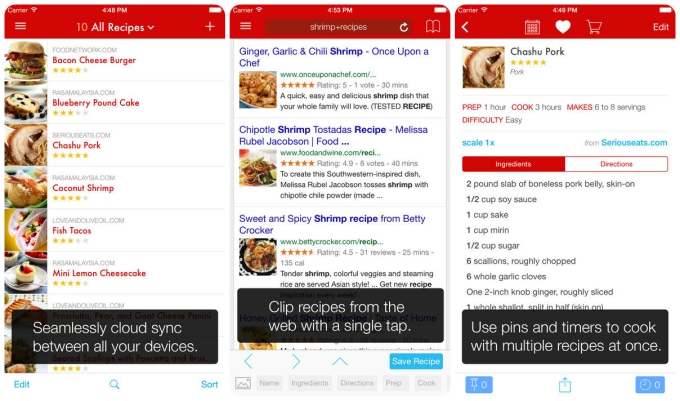 Another recipe management app, Paprika is one of simplest out there. It'll work with hundreds of different websites ensuring millions of recipes are at your disposal. An integrated browser clipboard tool makes it even easier, with you able to cross off ingredients or steps as you go along. Multiple timers, nutritional information and an intelligent grocery list feature completes this package.
9. Kitchen Stories (Free)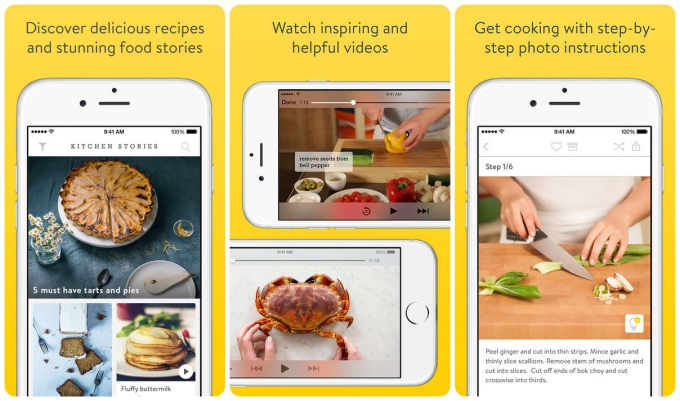 Kitchen Stories is aimed at bringing media-rich snippets to cooking apps — that's to say, instead of simply providing recipes, it offers an array of photos and videos. Of course, said photos and videos also come with easy-to-follow instructions. Find a dish easier with various themed menus like "all-time classics" and "20-minute dishes". The real point of Kitchen Stories is to present food as nicely as possible, so if you're susceptible to mouthwatering photos of food, then this might be the app for you.
10. Forks Over Knives ($4.99)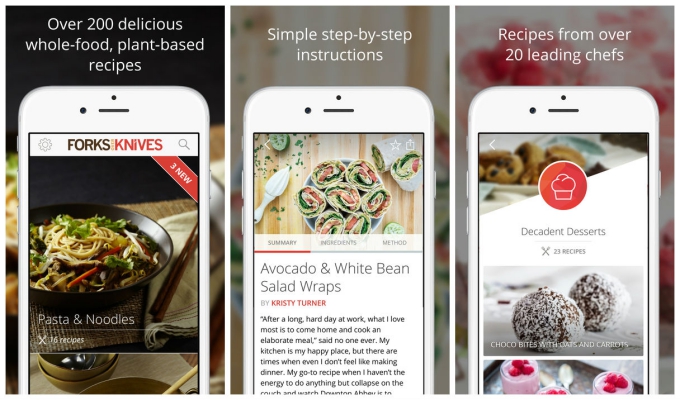 An essential app for anyone pursuing a plant-based lifestyle, Forks Over Knives offers over 200 recipes with new ones added weekly. Step-by-step instructions are provided, along with some very stylish imagery. A shopping list feature, and tips on how to live a vegan lifestyle, make this particularly convenient.